Because without a community, your building is just another place to live
Since 2001, Condo Communities has been bridging the gap between condominium residents and managers through innovative, easy-to-use web portals. Designed especially for this unique industry, our innovative community websites provide condos, boards and management companies with a modern edge over the competition.
Want to know how Condo Communities can make a difference? Check out the features below.
PROPERTY MANAGER FEATURES
Resident/Owner Registry
Know everything about your on-site residents and off-site owners, starting from their emergency contacts to vehicle information and all the way to their pets. The Resident Registry will track all the information you need on your residents and even allow you to search easily through records and print them at your own convenience.
Purchase Order Management
Quickly place purchase orders with suppliers and contractors through our Purchase Order (PO) Management module. To save you time and spare you a lot of hassle, the module will track all the orders on your behalf and notify you when a supplier accepts or declines an order.
Announcements and Newsletters
Keep your residents informed about what is happening at the condo. Send through notices, announcements and newsletters within seconds, even to residents who are currently away from their property.
Document Vault
Upload important documents such as by-laws and board minutes to the system through the Document Vault feature. With our unlimited storage capacity, rest assured that all the documents you and your residents or condo owners need will be available round the clock.
Service Requests
Make communication between the management, residents and trades people easy, convenient and properly document. With Service Requests, your tenants can send through complaints on issues in their suites. The system will then create a record of the issue and track it until it is solved. As a result, your management will become more efficient and your residents will be happier.
Amenity Bookings
Gain full control of your amenities and manage them electronically. Through the Amenity Bookings feature, you can add, edit and delete bookings of on-site amenities. Condo Communities goes the extra mile, allowing you to set practical limits to enforce sensible guidelines and be fair to all residents. You will also be spared from handling cash and cheques as the system allows credit card payments..
RESIDENT PORTAL FEATURES
Service Requests
Forget about time-consuming visits to the property management office and never worry about getting your service request lost in paperwork. With Service Requests, simply login to the resident portal, type in your request or complaint, and wait for your property manager to resolve it in a timely manner.
Amenity Bookings
Book whichever amenity you need 24 hours a day, 7 days a week. In addition to accepting major credit cards, the Amenity Bookings feature ensures that you are treated fairly through limitations that prevent consecutive bookings, use of equipment for long periods of time, and much more.
Building Announcements
Stay connected with your condo community even when you are far away. Receive minute notifications in your inbox and find out about upcoming upgrades, changes and events through the revolutionary Building Announcements feature.
Community Event Calendar
Never miss another event with our Community Event Calendar. Be it a spring BBQ or annual board meeting, you can free up your schedule weeks beforehand and get the chance to blend with other great residents like you.
Document Vault
Get the forms and important documents you need regardless of whether the property management office is open or closed. Learn about the property's by-laws and other regulations simply by accessing the Document Vault. You can even download the files to use or read them later.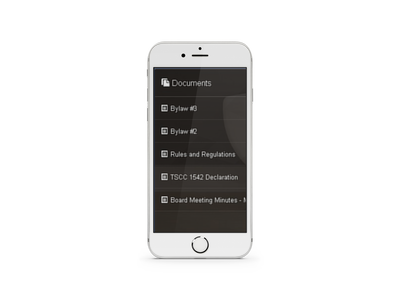 Visitor Parking
Spare your visitors from the hassle of pesky parking slips and request visitor parking permits through your Condo Communities portal. Login to the system, type in your visitors' information, and trust the Visitor Parking module to alert security to let your visiting loved ones right in.